Music is an integral part of Flood Tide, both onscreen and off. In addition to original songs by cast members Dark Dark Dark and Fall Harbor, the film includes music by Jolie Holland and Nathan Salsburg, and an onscreen performance by sound artist Pauline Oliveros.
The original soundtrack to Flood Tide was produced by Jonathan Kaiser, of Dark Dark Dark and recorded during a residency  at the Experimental Media and Performing Arts Center (EMPAC) in Troy, New York.
Flood Tide will tour as a series of live cinema/music events featuring a live soundtrack by Dark Dark Dark as well as local collaborators. The first iteration of these screenings took place when the Swimming Cities of Serenissima rafts 'crashed' the Venice Biennale in 2009. [see images] 2 3
In advance of the feature film's release Flood Tide: Remixed, a 50-minute remix of footage from Flood Tide — featuring footage of the river and the rafts not used in the feature film — will screen at a handful of select locations with a live musical score composed and performed by Dark Dark Dark. In July of 2010 Flood Tide: Remixed debuted as the opening film of the Rooftop Films' Summer Screening Series at Socrates Sculpture Park, just a mile from where the Swimming Cities rafts made their port in the Summer of 2008.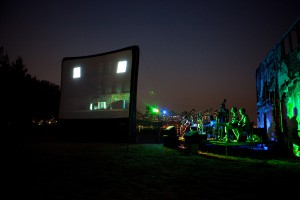 see more images
Flood Tide: Remixed will screen with a live score by Dark Dark Dark throughout 2010-11. See Screenings page for information about upcoming events.
3
4
5
6
7
8