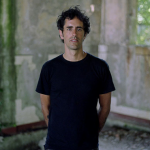 Todd Chandler – Writer / Director / Editor / Producer
Todd Chandler is a filmmaker and interdisciplinary artist. Live performance, installation, and site specific events are natural extensions of his films. His work is often set within real life contexts and infused with fictional narratives. His first feature film, Flood Tide (2013), documents and reimagines a journey down the Hudson River on the Swimming Cities of Switchback Sea, a fleet of sculptural rafts dreamed up by the artist Swoon.

He often works collaboratively. He is the co-creator of three iterations of Empire Drive-In, with Jeff Stark, and was a founding member of the Miss Rockaway Armada and the band Dark Dark Dark.
His films and installations has been featured at the Hammer Museum, the Torino Film Festival, Brooklyn Museum, Mass MoCA, Rooftop Films, 01SJ Biennial, and the San Diego Museum of Contemporary Art. His projects have been written about in Filmmaker Magazine, the Wall Street Journal, BBC, and New York Magazine. He has received fellowships and support from the New York Foundation for the Arts, the Jerome Foundation, New York State Council for the Arts, Experimental Television Center, and the Wexner Center for the Arts.
He teaches in the Department of Film at Brooklyn College.
More information at toddchandler.org

More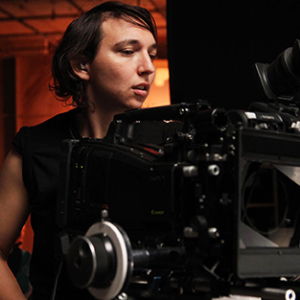 Ava Berkofsky – Director of Photography / Producer
Ava Berkofsky is a Los Angeles and New York based cinematographer and filmmaker. In the last few years, projects she shot have screened at numerous festivals including Sundance, SXSW, New Directors/New Films, and Telluride; as well as in art venues including the Whitney Museum and the Venice Biennale; and on numerous TV networks, recently PBS.

Ava has a solid foundation in documentary filmmaking and cinematography which has been useful in her transition into narrative cinematography. Ava's recent projects include Turtle a narrative short directed by Daniel Kragh-Jacobsen; Flood Tide, a feature length narrative/documentary hybrid; and the documentary project POSTCARDS FROM HERE, which offers a visceral portrait of the former Soviet Republic of Armenia and was made in conjunction with feature film HERE (nominated for Independent Spirit Award in Cinematography.), in addition to multiple music videos and commercial spots.
Ava was born in the UK and raised in California. She holds an MFA in Cinematography from the American Film Institute.
More information at avaberkofsky.com

More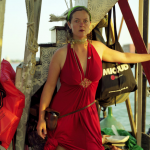 Tianna Kennedy – Location Sound / Associate Producer
Tianna Kennedy is a farmer, educator, writer and project manager with extensive experience in creating important public access spaces in increasingly privatized spaces. She currently leads operations and expansion at Burnett Farms in Bovina Center, NY and is concurrently developing New American Farmer Training program with the Center for Agriculture Development and Entrepreneurship. She is founding member of the Empty Vessel Project, a center that fosters projects focused on Sustainable Living in Urban Landscapes. You can find her in the fields, on the water, in the desert or playing the cello.
Additional Writing
Jeff Stark
Additional Editing
Laura Hanna
Sound Design and Mix
Jeremy Fleishman
Colorist
Jerimiah Morey
Camera Assistants
Ilona Berger
Nick McClintock
Key PA
Ian Page
Production Assistants
Molly Fair
Sarah Gallagher
Blaire Neil
Yvonne Olivas
Underwater Cinematography
Jill Heinerth
Underwater footage courtesy of Heinerth Productions Inc.
Archival Photos provided by Rensselaer County Historical Society
Original Score by Dark Dark Dark
Nona Marie Invie
Marshall LaCount
Jonathan Kaiser
Todd Chandler
Mark Trecka
Recorded by Tom Herbers
with Brett Bullion
at Tarlton Studios and Creation Studios
Minneapolis, Minnesota
Additional Music Recorded by Jonathan Kaiser
at the Curtis R. Priem Experimental Media & Performing Arts Center
Troy, New York
Mastering by Huntley Miller
HM Mastering