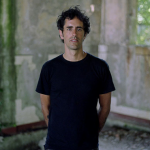 Todd Chandler – Director / Editor
Todd Chandler is a film and video maker and a musician. He creates expressionistic films about journeys and issue-driven documentaries. His films have been featured at the Human Rights Watch International Film Festival, Chicago Underground Film Festival, The United Nations African Issues Screening Series and the Margaret Mead Film and Video Festival.
In 2006 he helped create The Miss Rockaway Armada, a collective art project that built and navigated junk rafts down the Mississippi River. The voyage led to two more raft projects. On the Hudson River in 2008 he directed FLOOD TIDE using the rafts and their journey as a centerpiece. In 2009 he screened selections from FLOOD TIDE on the Swimming Cities of Serenissima rafts during performances at the Venice Biennale.
He also plays music. He is a member of Dark Dark Dark, a chamber folk sextet In addition to touring music venues in Europe and in the United States, Dark Dark Dark performed at the Massachusetts Museum of Contemporary Art, The Walker Art Center and in the canals of Venice as part of the Swimming Cities of Serenissima.
He is one half of the musical project Fall Harbor, a collaboration with C. Ryder Cooley. Fall Harbor creates installations in unlikely space and inhabits them, performing music. They have performed at dinner parties in railway tunnels, in crumbling opera houses, barns and around bonfires.
His work has been supported by the New York State Council on the Arts, Experimental Television Center, free103point9, the Wexner Center for the Arts, and the Curtis R. Priem Experimental Media & Performing Arts Center (EMPAC).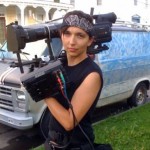 Ava Berkofsky – Director of Photography / Co-Producer
A cinematographer and photographer based in New York City, Ava Berkofsky's work has been seen at numerous festivals including the Human Rights Watch film festival and Sundance, at art venues such as the Whitney Biennial, as well as on numerous TV networks, most recently PBS.
Informed by a foundation in documentary photography and filmmaking, Ava's projects include work in and about women's prisons in the south, correctional officers in the north, and funeral homes in New York City. Of primary concern in all of her work is the question of how social justice issues affect our deepest sense of ourselves as individuals, as well as our relationships to our larger communities.
Across mediums, collaboration (both with her subjects as well as with other artists) plays a central role in her creative process. She studied at the School of the Art Institute of Chicago as well as at the School of Visual Arts in New York where she earned her B.F.A. as a Silias H. Rhodes Merit Scholar.
Current projects include Postcards from Here, a non-traditional road movie that looks at contemporary life in Armenia from the perspective of a wanderer (and outsider). The film is part of Braden King's multi-platform motion picture project HERE.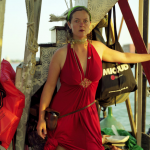 Tianna Kennedy – Location Sound / Associate Producer
A Brooklyn-based artist and cellist performing and showing locally and internationally Tianna Kennedy is also a curator, events coordinator, adjunct professor, writer, and sometime sound engineer. She was the NYC Program Director of free103point9, a non-profit transmission arts organization, from 2003-2008. Kennedy co-founded the August Sound Coalition in 2004 and the Empty Vessel Project in 2005. She designed and taught "Radio Culture" and "Sight, Sound, and Motion" at Brooklyn College and has a MA in Performance Studies from NYU.
In 2009 she was the project manager of Swoon's Swimming Cities of Serenissima after which she retired to a farm in Upstate New York. Currently she is co-curating Noise! 2010, a one-day, marathon event, featuring a staggering array of artists and works including performance, sound, moving image, language and culinary craft.
Jonathan Kaiser – Music Supervisor

Jeremy Fleishman – Sound Design
Ilona Berger – Camera Assistant

Production Assistants
Sarah Gallagher
Nick McClintock
Yvonne Olivas
Ian Page
Additional Writing
Jennifer Bleyer
Ryder Cooley
Lisa D'Amour
Jeff Stark